One of the first problems that a gamer can face after installing the DS4Windows app is related to the controller not connecting.
This guide is, therefore, dedicated to 'DS4Windows Not Detecting Controller' as it will resolve this problem to help the gamers enjoy playing games without any hassle.
Let's begin, without any further ado:
Reasons Why DS4Windows Cannot Detect Physical Controllers
Some of the reasons along with their solutions include:
You are using an OLD Version of DS4Windows
In many cases, you wouldn't even know but you may be using an old and outdated version of the application.
Bear in mind that the obsolete DS4Win software created by jays2kings has not been updated since 2016. If you are using it, the program will simply not detect your controller no matter how hard you try.
We only recommend using the latest DS4win application that's been developed by the Ryochan7 community recently. Make sure you are using updated version of Ryochan7's DS4Windows. If have issues then checkout out our brief guide on the installation of the app.
Using the official and upgraded version of the app can help you resolve the non-detection of the controller easily.
Version 3 and above developed by Ryochan7 community.
Maintained and properly optimized version.
One of the ways to check whether you are using the official Ryochan7 DS4Windows is to check the blue+pink icon on top of the app. Followed by that, you should see Output Slabs tab along with the compatibility of up to 8 controllers at once.
Version 1.4.52 developed by jays2kings back in 2016.
The old DS4Windows app has not been updated since 2016, so gamers should avoid using it.
One of the ways to check the old version is that it has a black controller icon. Plus, it has no Output Slots tab available and the number of controllers allowed for connectivity is only 4.
DS4Windows App is Stopped Due to Error
Sometimes, the app can stop on its own or maybe your antivirus may stop it from running.
It may also prevent the connectivity of physical controllers to the app.
To avoid this problem, simply click on Start after opening the application as follows:
Windows Devices cannot Detect Controller
When your controller cannot appear in any form or icon on Windows Devices and Printers interface, it means it's the problem of the controller and not the application.
For DS4Windows to connect your controller and convert it into a virtual mapper, it must be visible for detection.
Make sure that you have connected the controller to the right port. If it still does not get detected, see whether there's any fault in your controller or not.
For more info, follow our guides to connect specific types of controllers to Windows as follows:
PS5 DualSense X Controller
PS4 DualShock Controller
PS3 controller
Nintendo Controller
Xbox Controller
When connected through a USB port, you will see a notification on Windows operating system showing that you have connected a USB device. If nothing happens, it means:
Your controller has stopped working.
The cable is faulty.
The USB port is broken or not working.
Controller's cable can only be used for charging the controller.
It could get a bit tricky while connecting the controller via Bluetooth. For starters, simply connect your controller via Bluetooth, and it will get paired without any hassle.
For some reason it may not get connected when;
The Bluetooth device on Windows will continuously pop up with Add a Device option even though you have paired the device.
Not only that, but the controller will disconnect frequently if you do not connect it the right way with Bluetooth.
Let us answer it below:
Controller Connected via Bluetooth: Correct and Incorrect Method
When DS4Windows cannot detect the controller that you've connected through Bluetooth, it's mainly because you have not connected it the correct way.
Gamers should connect their controller manually with Bluetooth after clicking on the 'Add Bluetooth Device' option in settings like that:
The user simply turns on Bluetooth and it can connect to the controller automatically. However, it can get disconnected frequently.
Accidentally Disabled Controller Not Detectable in DS4Windows
You may not know it, but there's a solid chance that DS4W has disabled your physical controller in an attempt to get Exclusive Access.
That mostly happens when you are trying to get access to your controller via the 'Hide DS4 Controllers Option.'
To resolve this, simply remove the device from pairing and re-pair it with Bluetooth. It will usually resolve the problem for you.
For gamers who connect controllers through USB, a simple way to check if the controller works properly or not is to try connecting it to another USB port.
Another way to know is to check the lightbar on your DS4 DualShock or DS5 DualSense controller. The lightbar will keep flashing yellow and that means it's getting charged.
On the contrary, it will flash yellow once and then turn off if it's completely charged.
Follow these steps to check whether your controller has been disabled by DS4Windows or not:
Open the Windows Devices and Printers on your system. Simply press the Win+R on your keyboard and the setting area will open.
Type control printers in the search box and press Enter.
Try locating the controller you have connected to the PC.
After locating it, right-click on it and select Properties. In the new tab, select and open Hardware tab.
Simply select the HID-compliant game controller and see its status at the bottom. If it's disabled, you will see the Code 22 error.
Click the Properties option again and in a new window, enable the device, click on save changes and you are good to go.
Controller is Connected to the PC but Hidden
After checking:
Your controller is connected
It's working properly and
It's still not connected to DS4W, then
The controller has been hidden from DS4Windows due to the following reasons:
HidGuardian Drivers
The driver was used by DS4Windows previously to prevent the double-input issue. However, it was removed in the v3.0.8 of the app due to following reasons:
Users were unaware of utilizing or properly configuring the driver. The end result was a complication in connecting the controller to the PC and letting the DS4Win recognize it.
HidHide, an upgraded and improved version of HidGuardian has a user-friendly design and an easy UI. So, the Ryochan7 preferred it over the HidGuardian.
Gamers who still have the HidGuardian driver installed should;
Uninstall it to resolve the DS4Windows not detecting the controller problem once and for all.
To see whether it's installed or not, simply check the Legacy Drivers Section of DS4Windows Uninstallation.
To avoid the double-input problem, simply install HidHide, which can help prevent the detection of the physical controller and will only present the virtual controller to games and platforms like Steam.
Follow our guide on Preventing Double Controller Issue to learn more about preventing and resolving this problem.
HidHide
DS4Windows recommends installing HidHide driver as it's an improved version of its predecessor.
It can help you prevent the double-input issue easily.
To check whether you have this driver installed, simply open Windows Apps and Features and search the term HidHide. If it's installed and your controller isn't getting detected by DS4, it means it has not been properly configured.
Learn more about configuring HidHide drivers here!
If you have cross-checked the driver and found out that it has been properly configured, then simply disable and enable it again to check whether the controller gets detected or not.
For that, open HidHide and then select Configuration Client. Here, untick the Enable device hiding in the Devices tab and see whether this can resolve your problem or not.
If the above-mentioned solution still does not solve your problem, simply uninstall HidHide from Windows Apps and Features. After uninstalling, reboot your PC for changes to apply.
Even if the uninstallation does not work, it means that everything is okay with DS4Windows, HidHide, and all other configurations.
The problem is in your controller. Let's check it out:
You are Using a Copy-Cat/Replica of DS4 Controller
If you are using a copy-cat or a replica of the original DualShock controller then,
Make sure that the controller is present itself as an original controller in a way that DS4Win application thinks it's the original controller and behaves accordingly.
Force the detection of these controllers using the Debug DS4Windows version.
Get specific support to connect replica controllers using the DS4Win code.
Disabled Support for Your Controller in DS4Windows Settings
Sometimes a user can disable the support for controller in DS4Windows dashboard. When that's the case, simply go to Device Options in the app and see if all the options there are enabled or not.
After making the changes, stop the application and start it again for the changes to be effective again.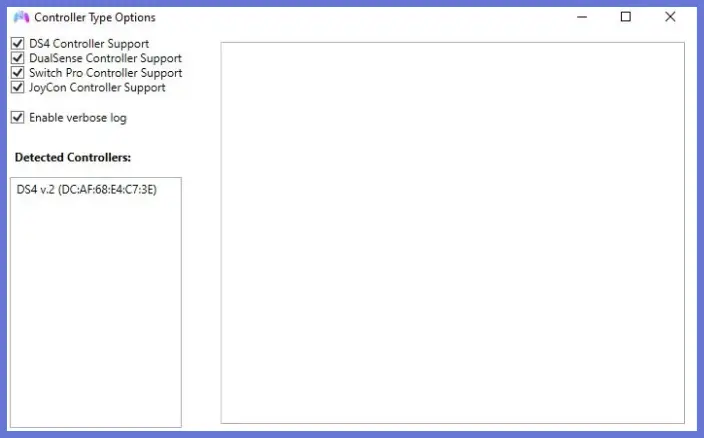 5 Different Ways to Detect Controller on Windows Operating System
Want your controller to get detected on Windows? Better do the following things:
Do not run DS4Windows when you are trying to detect the real controller on Windows.
Make sure that the Hide DS4 Controllers option is disabled. If you are using HidHide for that purpose, better uninstall it or else the Gamepad tester will not detect your controller.
If you are using a DS3 controller with DsHidMini on DS4Windows, it will not appear on Gamepad tester or Windows Game Controllers list.
You can confirm their detection on DsHidMini Control Utility in the software though.
Here are the 5 top ways through which you can detect the real controller on your PC:
Gamepad Tester
Gamepad tester works with almost all controllers and it can also show some additional info about your controller including the VID and PID data.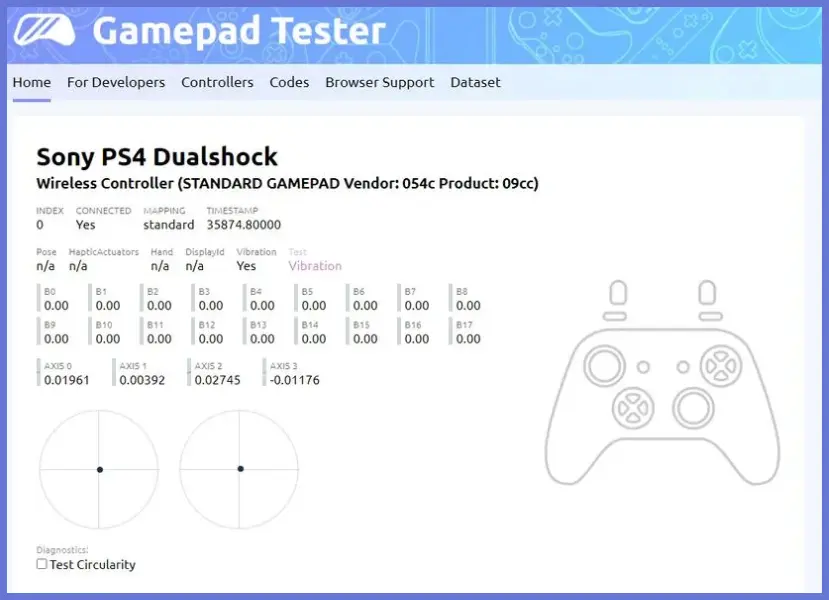 Using (joy.cpl) Command on Windows Game Controllers List
To check whether the controllers are detected or not in an easy way, press Win+R and enter the joy.cpl command.
A new window will popup showing you the controllers that have been connected to the PC.
Detecting Controllers via Windows Devices and Printers
You can use the Windows Devices and Printers settings to confirm the detection of controllers in the following ways:
For USB connection:
Verifying if there are any changes when connecting or disconnecting a controller.
For Bluetooth Connection:
For Bluetooth, check whether the controller-related entry is available along with its status.
Press Win+R and type control printers. Press enter and that'd be all.
You can also open the Windows Devices and Printers dashboard through Windows Legacy Control Panel.
Detect Controller via Bluetooth and Other Devices
Open Windows Settings and on the left side, open the Bluetooth and Other Devices option.
It will show whether the controller you have paired with Bluetooth is detected by the PC or not:
Detect Your DS4 Controller through Device Manager
Open Windows Device Manager by pressing either Win+X or by right-clicking the Start menu and choosing the Device manager option.
In Device Manager, expand the Human Interface Devices and you will find the controller in the expanded devices easily.